PERFORMANCE INTAKE MANIFOLDS
After market intake manifolds in general and for the most part are very affective in the as purchased condition for average power levels. Most intake manifolds will allow an engine to reach their intended power levels when using today's aftermarket cylinder heads. When selecting an intake manifold it should be treated as an extension to the cylinder head port. The total runner from where the air enters the runner in the intake manifold until the air passes the head of the valve is what you should be thinking about.
When running a single 4 style manifold you also have to consider the throttle body type you're going to use. Carburetor or EFI, there is a difference in how each one is affected by the manifold design. You are wasting your time thinking about intake manifolds if you're not going to size the throttle body and or carburetor correctly for the required air flow the engine is going to consume.
When it comes to induction, it starts at the valve and ends at the throttle body. Every time you add a part or change shape or size drastically you add a restriction to the induction system, which slows down air speed and therefore it requires more time for air to respond as a whole.
When it comes to selecting a performance intake manifold here are additional considerations that make a big difference in maximizing performance from the engine. The intake runner angle to the cylinder wall center line, total runner length, runner taper, runner cross sectional areas, plenum volume, and plenum to runner entrance angle, theses all play a big role in maximizing performance.
THE IMPORTANCE OF AIR FLOW VS. AIR SPEED
Air Flow
Intake manifolds can look different from each other yet flow the same air values. The difference lies in the volume of runners or cross sectional areas of the port and or runner lengths. Even with these differences they can still flow the same air on a flow bench comparing to each other. So what makes the difference, in this case each manifold runner will have a different air speed if flow tested at the same pressures say 28". What that means is that each different manifold will require a different peak rpm to create the equal air speeds of all the other manifolds on the same size engine. In short a larger runner volume will have a higher engine speed to create the required air speed to fill the cylinder correctly than a small runner volume with the same flow value.
Air Speed
Without the proper induction air speeds, cylinder fill will never reach 100%. Flow benches are not engines, a flow bench is nothing more than a measuring of steady state air flow. Yes it is used as a comparison but you must compare flow improvement with increased or same air speeds. We find that air speeds of about 450fps at peak torque and 700fps at peak hp gives an engine a better chance at filling the cylinders. Air speed has a lot to do with the amount of air that is being consumed, vs. how much is being wasted, not all the air entering the engine is staying in the cylinders so the camshaft designs plays a huge rule in making air speeds.
WHERE DO YOU START
If an 8 cylinder engine, consider you have eight engines to think about. Each has to act the same to create equal power from all eight, which is also your goal. First each runner has to flow the same even though they are different lengths and or volume runners. We have seen as much as a 7% flow difference between runners in a single 4 manifold out of the box. When blue printing a manifold each runner flows the same at the same port volumes. How's that possible when you have up to 3 different length runners in a single manifold.
RCS Vertical Port Intake Manifold
Designed for the Cleveland and Windsor Engines
Call for pricing and availability to match your engine design.
Seen at the 2016 Engine Masters, RCS 400 Cleveland, 740hp ON PUMP GAS (101 OCTANE) BY 6,900 RPMS, AND 620 LBS OF TORQUE AT 4900.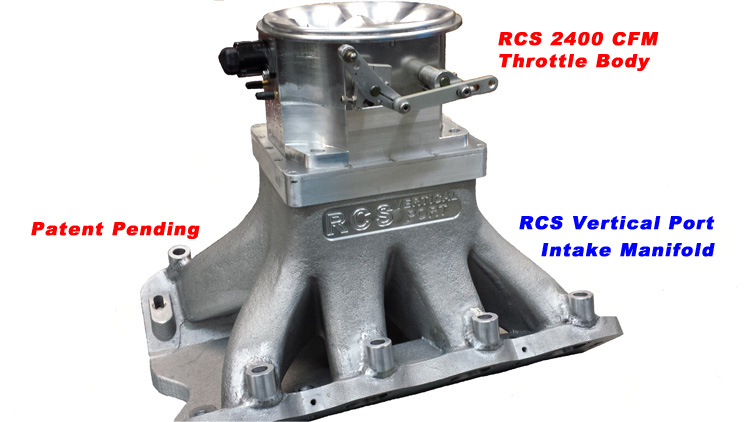 NEVER SEEN BEFORE INTERNAL RUNNER DESIGN
DESIGNED AND MACHINE PORTED BY RCS RACING ENGINES AND CASTED BY (SCOTT COOK AT SCM IN AUSTRIALA)