RCS CRATE ENGINE -400/351C S/B Ford EFI, 2400cfm T/B
730 Hp/615 ft.lbs. on pump gas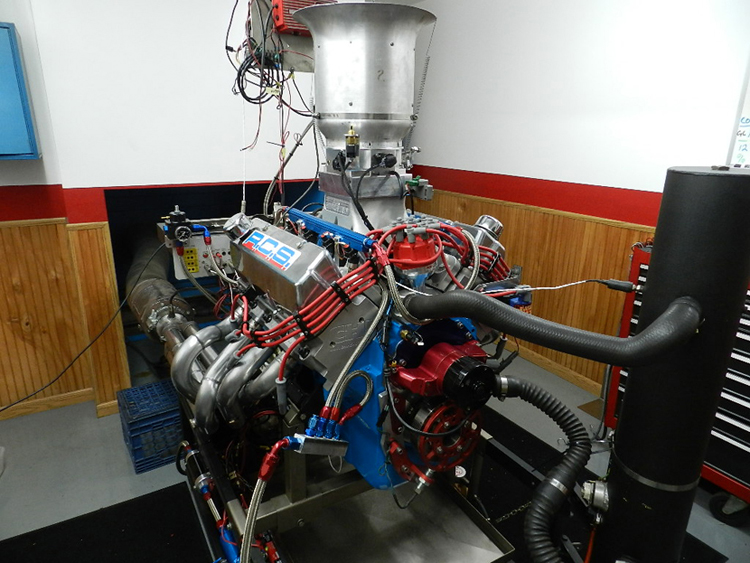 RCS Engineered Racing Engines
Engine Special (New Product) Ford 400/351C 9.2
(Featured in 2014 Engine Masters)
730 HP and 615 ft.lbs. of torque @ 4,600, peak Hp @ 6,500
Cleveland lovers got to love this one! Naturally aspirated 9.2 deck Ford Cleveland's below 7,000 on pump gas, for both the track or on the street. 90% of all machining is performed by the CNC process and on site at RCS. This engine is designed with CHI Cylinder heads and CHI or SCM intake manifold, all CNC machined, while the ports, chambers and seats from raw are CNC machined by RCS creating maximum flow rates and the highest velocity possible for each cylinder equally. This engine combination has tremendous throttle response due to the unique port design, high flow rates, high air speeds and our unique camshaft design.
The 400/351C 9.2 deck 730+HP/615+ft.lbs. is naturally aspirated and fuel injected, yet can be carbureted. The engine is new complete and ready to run. To install all you need is a 12v source and a fuel line, peak Hp is @ 6,500 - 6,800 and peak torque is @ 4,600. Engine includes a Holley HP Electronic Fuel Injection system with 2,000 or 2,400 cfm throttle body fully dyno tested and programmed with a complete wiring harness mounted to the engine for ease of installation.
This engine is built around a USA aftermarket block by Tod Buttermore and has been completely CNC machined by RCS. Currently Tod Buttermore blocks are the only cast iron blocks available for the Cleveland in the USA.
Full details on the engine will be disclosed to the buyer along with the dyno sheet. This engine runs on 93-100 octane fuels. Engines are currently a 6-8 week waiting period, RCS only inventories one of each engine so product is limited. Full instruction on care and maintenance is supplied with each engine.
This engine can be carbureted instead of fuel injected as well. The cost will be lower than EFI.
Built with RCS/CHI3V248 heads on a 400 EFI Cleveland with 10.8-1 compression on pump gas. The engine made 730Hp @ 6,500 and 615 lbs. torque @ 4,600, seen at the 2014 Engine Masters. Power readings at the 2014 Engine Masters are not completely corrected and show a lessor output.